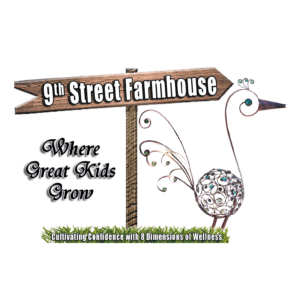 Mission Statement of Grassroots Wellness Development is to educate for human greatness, enhancing positive relationships, while building overall personal wellness. Wellness is an active process of becoming aware of and making choices towards a healthy and fulfilling life. It is a dynamic process of change and growth. We strive to identify and enhance the skill levels of people who work with us by empowering them to move forward in a positive, productive direction as they integrate the following dimensions of wellness into lives.    (Non-Profit organization 501-C3)
Hello Everyone! Are you willing to Help a Child Learn a Healthy Lifestyle?
Grassroots Wellness Development at 9th Street Farmhouse is creating that in a child with 8 Dimensions of Wellness!
The Eight Paths to Wellness are:
Physical Wellness

; the ability to recognize that our diet, fitness level, alcohol/tobacco/drug use and other life style habits exert significant impact upon overall life quality.

Emotional Wellness

; the ability to understand and accept our feelings, and to develop effective ways to manage them in daily life.

Social Wellness

; the ability to understand and interact with family, friends, teachers, fellow students, and our larger community.  The ability to cultivate and maintain positive, mutually supportive relationships.

Spiritual Wellness

; the ability to appreciate and engage with ideas and activities that are personally meaningful at deeper levels of self-understanding and self-esteem.  This category does not address religious denominations and theologies, but supports activities that lead to life satisfaction in a general sense.

Environmental Wellness

; the ability to recognize our responsibility and to have a positive impact on the quality of air, water, land, and food in our local community as well as in the world at large.

Occupational Wellness

; the ability to derive satisfaction from our jobs while maintaining overall life balance.   This includes career/vocational self-discovery and permission to explore what interests and inspires us related to future sources of income.  It also includes exploring how our interests and abilities can vocationally contribute to our communities and to society at large.

Material/Financial Wellness

; the ability to make realistic and proactive financial decisions and to effectively manage our resources to support a stable and satisfying life style.  This also includes awareness of ethics related to acquiring and managing money, sensitivity to how our financial goals impact the larger community.

Civic Wellness

; the ability to recognize and implement our responsibility to become contributors to our community, to become concerned and involved citizens.
With your Donation or Sponsorship together we can Help "Great Kids Grow"